Life Non Slip Cotton Bath Rug
Life Non Slip Cotton Bath Rug
324 - Quickly get a phone representative on the same page you are on now by giving them the quick link ID 324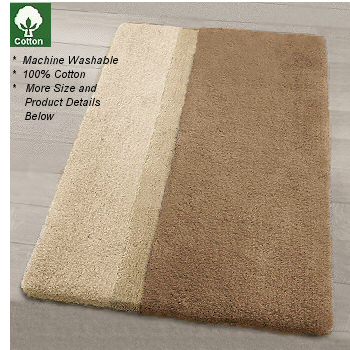 anthracite grey

natural

taupe
* limited quantity *
Additional Product Images Gallery
Click on an image to view a larger version. Larger images replace the main image shown above.
Click Here: Life Cotton Bath Rug Details
Stock levels are intended as a general guideline, not a guarantee and do not take into account pending orders. More stock is typically available in Europe. Orders requiring stock from Europe usually ship in 2-12 business days.
Coordinated Families
Product Details
(
back to the top
)
Download Manufacturer Data Sheet (PDF)
Life Cotton Bath Rug
Design:
Non slip luxury cotton bath rug with sculpted design for extra style.
Abosorbent soft cotton rug with thick medium pile 20mm / .79in height.
Designed and produced by well-known German brand Kleine Wolke, established in 1968, and is backed by their quality guarantee.
Unique non slip backing. See non slip backing details below.
Durable and easy to care for. Machine wash and dry. See rug care details below.
Color Options and Descriptions:
Taupe: Soft brown taupe cotton rug with light taupe accents.


Anthracite Grey: Soft anthracite grey with light anthracite grey accents.


Natural: Golden beige tone with very light beige accents.
Rug Fiber Qualities:
Exceptionally soft, 100% premium cotton
Good warmth retention
Very durable
Easy care natural cotton fabric
Unique Non Slip Backing:
Non slip latex and woven rug backing
Durable, resilient backing, resistant to cracking from washing and regular care
Provides non slip properties on most surfaces
Rug Care:
Easy care, washes up very nicely
Machine wash warm 86F 30C, using colorfast, mild action detergent
Hang or tumble dry
(
back to the top
)